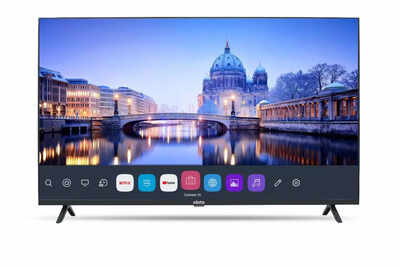 Home Electronics & Home Appliance Brands Elista have entered smart TV section. The company announced that it is foraying into the Smart TV category in India with the launch of Smart LED TVs. operated by webOSThe Smart TV has a bezel-less design.
The company has launched Smart TV in three screen sizes 43-inch, 50-inch and 55-inch. Smart TVs from Alista ThinQ come with AI support and users can also access Alexa for voice commands.
As mentioned above, smart TVs run webOS and come with an easy-to-use Magic Remote. The remote control offers a dedicated hotkey for Netflix and Prime Video. Smart TVs are supported by Dolby Audio and offer all the necessary connectivity options.
The company has priced the 43-inch model at Rs 48,990, while the 50-inch and 55-inch variants are priced at Rs 59,990 and Rs 70,990, respectively.
Meanwhile, a recent Counterpoint report showed that the TV market grew 33 percent over the past year to reach its all-time high of 89 percent. As per the report, Xiaomi led the market with 14.3% market share, followed by Samsung with 13.1% market share. Meanwhile, the premium TV segment which includes devices priced above Rs 30,000 saw a growth of 68.6% over the previous year. Further, the premium TV segment grew by 33.6% in Q1 2022 as compared to 23.5% in Q1 2021, resulting in a year-on-year (YoY) growth of 10.8 percent in Average Selling Price (ASP).
Follow us on Social Media
FacebookTwitterinstagramKu APPyoutube