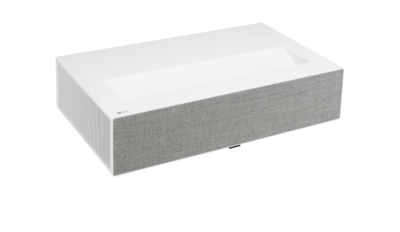 LG Electronics has launched Cinebeam Projector And ultrafine display The company's two new OLED products in India claim to bring an exceptional viewing experience with latest features and an interior friendly design.
The new LG Cinebeam HU715Q projector runs on LG's webOS. The 32EP950 UltraFine OLED Pro is a professional-grade monitor with True 10-bit color, 99 percent DCI-P3 color gamut, and 99 percent Adobe RGB color gamut coverage.
The LG Cinebeam Projector comes in at Rs 3,96,000 while the Ultrafine OLED Pro price in India starts from Rs 1,99,999. Both products are available for pre-order through LG's online store.
LG Cinebeam Projector: Features, Specifications
LG Cinebeam HU715Q Projector offers 4K UHD picture quality with 8.3 million pixels screen. LG's Cinebeam projector uses Texas Instruments' XPR technology to achieve a maximum resolution of 3840×2160 pixels. Users can enjoy a screen estate of up to 120 inches. The projector delivers 2500 lumens of brightness. It also comes with auto-brightness and adaptive contrast features.
The Cinebeam projector comes with a setup of two 20W+20W speakers and the company claims that users will be able to enjoy a cinema theater-like experience. In addition, the projector has Bluetooth connectivity allowing users to connect an external 2.2 speaker setup. The Cinebeam projector claims that its battery life is up to 20,000 hours, which means it can last up to 28 years if you use it for 2 hours daily. It runs the company's webOS platform which provides access to various OTT apps. Has support for projectors Airplay 2, ScreenShare And Miracast, Lastly, Cinebeam is compatible with Apple's Home app.
LG Ultrafine Display OLED Pro: Features, Specifications
LG's new monitor, the UltraFine Display OLED Pro, comes in two size options – a 27-inch and a 31.5-inch. OLED panel has 4K resolution, and it uses pixel dimming 1M:1 contrast ratio technology.
The panel covers 99 percent of the DCI-P3 and AdobeRGB color gamut. It is a true 10-bit panel which means the monitor is capable of showing 1 billion colors providing high quality results to the users. The monitor supports hardware calibration enabling direct adjustment of the 10-bit look-up table (LUT) for accurate colors. The LG UltraFine Display OLED offers a USB Type-C (up to 90W power delivery), 2 x DisplayPort, 3 x USB ports, and an HDMI port for connectivity.
Follow us on Social Media
FacebookTwitterinstagramKu APPyoutube