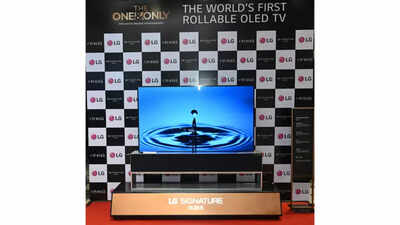 LG Electronics has announced the retail availability of its rollable OLED TVs, LG Signature OLED R. OLED R TV is available for purchase at Croma stores in Mumbai. The TV will be available in more stores across India in the coming days. LG launched its new OLED TV line-up with the LG Signature OLED R TV last month. The price of LG's rollable TV is Rs 75,00,000.
LG Rollable OLED TV Specification
The LG Signature OLED R TV has a 65-inch flexible display. For immersive audio output, LG's new OLED TV offers Dolby Atmos Spatial sound through their speaker system. as the name suggests, LG Signature R OLED consists of a rollable OLED panel that can only be rolled up along with the speaker part. Users can roll down the screen when they want to listen to audio only. The display can be rolled out in three different modes – Full View Mode, Line View Mode and Zero View Mode.
LG's 2022 line of OLED TVs is powered by the company's Alpha 9 Gen 5 processor. Gaming enthusiasts get the new Game Optimizer menu on the LG OLED, where they can quickly select or switch between exclusive gaming features and presets. LG's display presets for various game genres add a sports mode, which joins the previously available options of first-person shooter, role-playing, and real-time strategy. LG TVs have dark room mode which, when activated, will adjust the brightness of the picture while maintaining the game highlights and picture quality.
Follow us on Social Media
FacebookTwitterinstagramKu APPyoutube