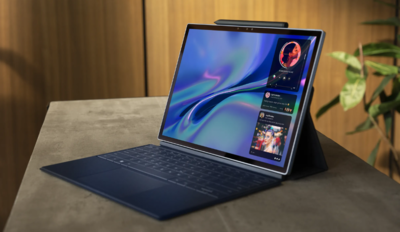 Ditch recently unveiled its new XPS Series Laptop – a new one XPS 13 And the XPS 13 2-in-1 – underwent an overhaul for 2022. 2022 model to feature thinner and lighter design, 12th generation Intel CPUs and fewer ports than their predecessors. The XPS 13 retains its lightweight design, but the XPS 13 2-in-1 has been redesigned from scratch, making it more of a tablet than a 2-in-1 laptop as it is now a folio. Comes with keyboard case and stylus. closer to Microsoft's Surface And the iPad more than ever.
The XPS 13 2-in-1 no longer has a 360-degree hinge; Instead, it comes in a tablet form factor, with the option to purchase an additional XPS Folio case and stylus. Unlike previous models, the XPS 13 2-in-1 features a standalone 13-inch unit that can be attached to a magnetic folio case to turn it into a full-fledged laptop.
Dell's new 2-in-1 XPS 13 features a 13-inch display with a resolution of 2880×1920 and an aspect ratio of 3:2. The panel offers 500 nits brightness and DisplayHDR 400 support. Two USB-C with Thunderbolt 4 ports DisplayPort and power distribution support. The new model drops the headphone jack and microSD card found on the previous XPS 13 2-in-1 model. However, the company does provide USB-C to USB-A and USB-C to 3.5mm headset adapters inside retail packaging. There is a variant with eSIM support, and 5G connectivity enabled.
The XPS 13 2-in-1 features a 5MP (1080P) webcam on the front with Windows Hello support. At the same time, an 11MP (4K resolution) camera can be found on the back side. The new model comes in two color options – Sky and Slate Hue.
Intel's latest 12th generation Core i5 and i7 CPUs power the XPS 13 2-in-1. There are two variants – an i5-1230U and i7-1250U paired with up to 16GB of LPDDR4X RAM and a 1TB PCIe4 SSD. The company says it has revamped the motherboard to make more room for the larger speaker.
The new XPS Folio Case comes as an additional purchased separately. The folio case supports two 100 degrees, 112.5 degrees and 125 degrees. The Stylus Pen can also be purchased separately.
The Dell XPS 13 2-in-1 is expected to arrive in the US this summer. However, the company has not announced any release date or pricing information. We expect it to reach India and other markets soon.
Follow us on Social Media
FacebookTwitterinstagramKu APPyoutube